Michael (and Marilyn) Brier

Westwood, MA 02090

4 children: Dorothy with 3 children (2 girls, 1 boy) + husband Jon; Henry bachelor; Jody with spouse Emily; Katy with 2 boys + husband (making 5 grandchildren)

Education: BS, MS Physics and MS Computer Science

Jobs: I worked many years in different-sized companies in data and telecommunications software and network development. In 2001 I was laid off my best job and became a teacher of math, physics, chemistry, and computer science in public school and colleges. This work was much more difficult than engineering and more competitive to get a position, so I started my own businesses in software consulting and (later on) home renovations and repairs.

What came out of all these careers is that I currently have a business in building energy and resource management consulting. I also create and run environmental eco-teams in Westwood, MA.

Organizations: Northeast Sustainable Environment Association (NESEA), Institute of Electrical and Electronic Engineers (IEEE), Massachusetts Climate Action Network (MCAN), Men's Division International (MDI)

Hobbies: activities with my family and friends, play violin (Klezmer and Americana and ??), gardening, ice skating

Retirement plans: do what I'm doing because I have the time and freedom to do what I love and always wanted to do

High school memories: sock hops, playing on baseball and soccer teams, Miss Calcerano (English teacher), lots of others I will share in person.


---

Martin A. (and Elizabeth Joy) Brown

Northfield, NJ

3 children, 2 grandchildren

Education: B.A. Rutgers; Doctor of Chiropractic, Chiropractic Institute, Manhattan

Honor: Chairman, Board of Trustees, Chiropractic College in Pa. in 1980s

Work: chiropractor

I've vacationed in Hi and Ca, cruised to Mexico, Caribbean

Organizations: Business Networking International (BMI)

Hobbies: organic vegetable gardening, public speaking

Favorite memory: I was surprised at graduation to receive a scholarship to Rutgers.

Brief Biography: I've been married twice. I have a 44-year-old son from my first marriage who is in management at Dell and lives in Orlando, FL, with his wife and my two grandchildren. After the divorce and 5 years as a bachelor/single father, I met my "soul mate," my wife of the last 31 years, Elizabeth Joy Flury. We have two children together: a 27-year-old son and (our wonderful surprise) a 14-year-old son. I opened my chiropractic office in the Atlantic City area in1970 and still love what I do. Several times I've been called to provide care to casino superstars such as Raquel Welch, Peter Allen, Gloria Loring, The Turtles and Yanni. I have no plans to retire any time soon. Eventually I'd like to become a snowbird, but for now I still have a 14-year-old son to raise.


---
Yearbook Name: Edward W. Budelmann
Where do you live: Ipswich, Massachusetts
My Family: 3 children
My Training/Education: BA Glassboro State College, MEd and Post Graduate 53 hours University of Massachusetts Amherst, Massachusetts Executive Program Harvard University Kennedy School
My Jobs: Science Teacher Greater Egg Harbor Regional School District NJ, Assistant Commissioner Clinical Services MA Dept of Youth Services, Assistant Commissioner Children's Services MA Dept of Mental Health, Neuroscience Administrator Tufts New England Medical Center, CEO Clipboard Solutions, VP Operations Wellogic
Lived in: Egg Harbor Township New Jersey, Amherst, Boston, Beverly and Ipswich Massachusetts
Organizations to Which I Belong: US Coast Guard Auxiliary, Partners North Shore Medical Center Patient Family Advisory Committee, Ipswich Country Club, Palmer Cove Yacht Club
Hobbies/Interests: Sailing, biking, working out, travel
Travels: Saudi Arabia, UAE, Israel, Europe, sailed to Bermuda
Favorite High School Memory: Drama Club plays, skipping school to attend NYC ticker tape parade for astronauts
---
Yearbook Name: Peggy Jean Burke
Current Name (if different): Peggy Burke Cramer
Spouse (if married) Name, MTHS Class if Applicable: Joe Cramer
Where do you live: Norwalk, CT
At this writing, our home in Norwalk is on the market. Once that sells, we are planning to move into our retirement home in Hendersonville, NC, permanently. Stay tuned for updates.
My Family (number of children/grandchildren/great, or whatever you want to tell us): We have one child, Joseph James, who has privileged us with three wonderful grandsons. A friend's son adopted us as his grandparents. so we have, in practice, 4 grandsons.
My Training/Education: BA Degree – Elementary Education - 1966, Glassboro State College (now Rowan University), Glassboro, NJ; Certificate of Special Studies in Administration and Management - 1988, Harvard University Extension Program, Cambridge, MA
Publication/Honors: Without Child – wrote the chapter on letting go of our need to overprotect our children after years of infertility.
My Job(s):
Classroom teacher: grades 2, 4 and 5 (NJ)
Substitute Teacher: all grades (MA)
Computer Programmer for division of GE (Basic 4 language and machines) (MA)
Administrative/Executive Assistant (MA, NYC, CT)
Marketing Communications (Anywhere my laptop goes)
Currently working full time for InStar Services Group, a national emergency response, restoration and reconstruction firm.
Places I've Lived/Traveled:
We have lived in Cherry Hill, NJ (3 years), Framingham then Wellesley, MA (±20 years), Houston, TX (3 years), Manhattan (2+ years), Norwalk, CT (15), and soon to be Hendersonville, NC.
We have had the opportunity to travel to almost all 50 states, including Alaska and Hawaii.
International travel includes: Ireland, England, Scotland, Germany (relatives there), France, Austria, Switzerland, Italy, Turkey, Tunisia, Panama Canal, Nassau, Jamaica, Puerto Rico, Bermuda, Mexico, many Caribbean islands.
This summer we will go an Olympic event in London and then cruise to several Scandinavian ports.
Organizations to Which I Belong:
RESOLVE, Inc.: Charter member and founding contributor (1975-1992) to what is still a national organization for people with infertility problems. Past Chairman of the Board
SMPS: Society of Marketing Professional Services, Westchester Co. branch (past)
ACBL: American Contract Bridge League (a few Master Points)
Hobbies/Interests: Going to softball, soccer, paddle tennis and football games featuring the Cramer boys (our grandsons); Oil painting, tournament and party bridge, genealogy (writing the family history more than researching it), reading mysteries and traveling.
Retirement Plans or Anything Else of Interest about Me:
Starting about 2003, I began putting the genealogy that was given to me into a dynamic family history that tells the story of our heritage in the historical and geographical setting it occurred in. I have about 80,000 words written. As for my personal history, I'm getting ready to talk about high school, college, The Pill, the psychedelic 60's and marriage. Yipes!
Favorite High School Memory: It's not just one memory but a fond remembrance of sharing the high school experience with my cousins, Rosemary Landwehr and Bobby Mathes, from our class and Rich Mathes, and Ted Landwehr from other classes. We moved to New Monmouth just before high school so this was an unexpected pleasure.
---
Ellen Cavallo (Mrs. Houston) Gentry

Portland, OR

3 children, 7 grandchildren

Education: Master's in Social Work (1991)

Jobs: have taught, mostly high school Spanish, and done social work (child welfare) — have been retired six years

Have lived in many states, east to west: Norfolk, VA, Florida, Texas, Nebraska

Organizations: Transition Town, Realistic Living

Hobbies: yoga, tai chi, reading novels, healthy diet

High school memory: long phone conversations with classmate Lillian Marques

Brief Biography: At the end of my senior year, my family moved to Colorado Springs. I attended college in Greeley CO then taught high school Spanish. Later I worked in child welfare. I have a daughter and son and helped raise a stepson. Houston and I have been married 9 years and live in Portland, OR.


---
Yearbook Name: Frederick W. Gill
Current Name (if different): N/A
Spouse (if married) Name, MTHS Class if Applicable: Widower – Married to Regina "Jeanne" Cronin in 1966 until her passing away after a long and courageous battle with cancer in 2003
Where do you live: Middletown, New Jersey
My Family (number of children/grandchildren/great, or whatever you want to tell us): Children 2 and Grandchildren 6
My Training/Education:
BS Degree – Business Administration – 1967 – Monmouth University
BS Degree – Education – 1969 – Monmouth University
MBA – 1974 – Monmouth University
Stonier Graduate School of Banking – 1979
Publication/Honors: Thesis from Stonier Graduate School of Banking accepted into the libraries at Harvard, Rutgers and American Bankers Association
My Job(s): Various bank executive positions for 25 years, retiring at 50
Places I've Lived/Traveled: Traveled to Ireland, England, Germany, France, Austria, Switzerland, Italy, Netherlands, Panama, Colombia, Nassau, Jamaica, Puerto Rico, Bermuda, Mexico and almost all fifty states from Hawaii, Alaska, California, Texas, Florida, Maine, etc.
Organizations to Which I Belong: Monmouth University Alumni Association
Hobbies/Interests: Reading, music, museums, theatre, and spending time with my children and grandchildren
Retirement Plans or Anything Else of Interest about Me: Retired after working 25 years at age 50
Favorite High School Memory: Senior Prom (Mary Anne '63)
Names of Any Classmates I know are Deceased: None
---
Name as in Yearbook: Charles (Chuck) Hansen
Spouse's Name (if you are married); Kathy (RBC HS)
Where do you live? City, state (not street address): Ocean Twp, NJ
My Family (number of children/grandchildren/great-, or whatever you want to tell us): No children, just a cute little Bijon-poodle.
My Training/Education: BSEE from Newark College of Engineering (now NJIT); some post-grad at FDU. Publications/Honors: Two books published by Audio Amateur Press: The Joy of Audio Electronics and A Brief History of Bendix Red Bank Tubes. Five patents from work at Bendix and an Inventors Award from Allied-Signal (now Honeywell). I've written over 250 articles on Science, Electronics and Audio for 15 different magazines, and was the audio test editor for AudioXpress until 2011.
Special Recognition Awards from Gates/LearJet (from LearJet 35/36 integration team), Gulfstream Aviation (for helping to get rid of EMI gremlins on the Shah of Iran's Gulfstream II, boy have things changed in what used to be called Persia!) and Boeing (for Boeing 737-700/800 system integration and for Boeing 757/767 extended-overwater single-engine operation emergency electrical system, also used on Gulfstream III and Airbus A320). My Job(s): Project Engineer with Bendix Electric Power (Eatontown NJ); Salem Nuclear Generating Station I&C Startup Engineer with PSE&G (Newark NJ); Nuclear instrumentation designer with Gibbs and Hill (NYC) until that Three Mile Island incident; then scooted back to Bendix (which soon after got scooped up by Allied-Signal) as Systems and Controls Supervisory Engineer.
Retired from Allied-signal (now Honeywell) in 1998. Then I went to work as an electrical systems consulting engineer for a local start-up company, Innovative Power Solutions, still work there part-time and also manage their electrical Calibration Lab. I also get to design and build all manner of specialized Lab test equipment, and still continue with my writing hobby (one can hardly call it a career).
Places I've Lived/Traveled: Lived in Monmouth County my whole life. Visited half of the states; BC, ON, QE Canada; most of Europe; Bermuda, Japan and Singapore. I sailed in all the US and British Virgin Islands, and most of the Caribbean Leeward islands.
Organizations to Which I Belong: None anymore. Used to belong to IEEE, AES and SAE. Also belonged to SCCA and IMSA when I was active in auto racing.
Hobbies/Interests: Main hobby is audio and electronics. Lots of interests: Aerospace, astronomy, audio, cars, computers, jazz guitar, environment, green energy, pen-and-ink drawing, photography, wood working, yoga, reading, writing ('rithmetic not so much).
I used to sail, fly a Cessna Skyhawk, run, played volleyball with Bell Labs and the YMCA, played jazz guitar, raced in the IMSA SSS racing series. Age and wear 'n tear takes its toll. There is an old saying something like "Age and Experience Beats Youth and Energy", but I think the Mythbusters might want to investigate it further. As my old Grandpappy used to say "Getting old isn't for sissies".
Retirement Plans or Anything Else of Interest You'd Like to Tell Us: Now that I'm retired I can't figure out why I haven't any time for anything! I enjoy hanging out with my wonderful wife Kathy, an ex-high school teacher who is getting to be a pretty good acrylic artist.
Favorite High-School Memory: It was all good, but Mr. Scharmann's Physics class and Mr. Franklin's German class were both laugh-riots. Years later I met up with Bill Scharmann again when we were both members of Monmouth Boat Club in Red Bank, NJ. I was Moorings Supervisor back when we had our sailboats. He was still a really funny guy, sadly he passed in the 1990's.
Names of Any Classmates I Know Have Died: Jeannie Gregorson, she worked with me at Bendix. Jimmy Burns was our baseball team 3rd baseman. Hayward Moultrie was a fabulous singer. I also gotta wonder how many didn't make it back from the Vietnam War, may they all rest in peace.
I lost my yearbook back in the '70's during one of my moves, so I might have gotten the spelling wrong on some names.
The webmaster (MTHS62 AT gmail DOT com) has my email if anyone wants to contact me.
Best Regards to all,
Chuck Hansen
---
My yearbook name was John Richard Marks
My wife's name is Adriana.
We live in Lima, Peru.
I've been a professional pilot of airplanes and helicopters.
I served in the US Army from 1966 to 1968. Stationed in South Carolina and Schweinfurt Germany.
I went to Brookdale Community College in Lincroft
My aviation employment began with Aerial Sign Co. (Banner towing) Asbury Park & Miami, Fl
Northeast Helicopters (Traffic reporting in Hartford Connecticut)
Island Helicopter Corp/New York Helicopters NYC (Charter and scheduled service)
Suncoast Helicopters Inc. Pompano Bch Florida (Charter)
Crescent Airways Inc. Hollywood, FL (Charter)
Biscayne Helicopters Inc. Miami, (Charter, aeromedical transport)
Memberships, APOA, NRA, Unified Sportsmen of Florida
Interests, Photography, Flying, Trap & Target shooting, Formula 1
Retired and living in Peru
---
Yearbook: Name: Paul Michaels
Spouse: Sandra Chamberlin Michaels
Live in: Montclair NJ
Family: 3 children and 6 grandchildren, oldest 47 youngest 20.
Job: Owner of an Insurance Brokerage firm
After graduating from HS I joined the Air Force, was trained as an aircraft controller and served 4 1/2 years of active duty in Spain, Texas and Oregon and 1 1/2 year as a reserve during which time I also married and had 2 children, Lisa and Kevin. After discharge in 1967 I returned to NJ and began working as an insurance broker and over the next 30 years we built and owned a successful Commercial Practice in Fairfield NJ and Charlotte, NC. In 1998 I sold the business to Bank of America and was president of their insurance division until 2001. I retired from BOA in 2001 and began a new niche insurance business specializing in the moving and storage industry as well as developing captive insurance agencies. In 1990 I remarried and my wife Sandra live in Montclair and have one child, Olivia, who will be a Junior at Pratt Institute. Sandra is an artist and designer. It's been a great 50 years and more to come!
Lived and Traveled: Spain, Oregon, Texas, then NJ since 1968. Traveled, Italy, France,Spain, Austria, Costa Rica, Belize, Cayman Island annually for a week.
Hobbies interests: Golf, reading, cooking, family, travel, mentoring.
Retirement: NEVER
Favorite HS memories - Parties, friends and football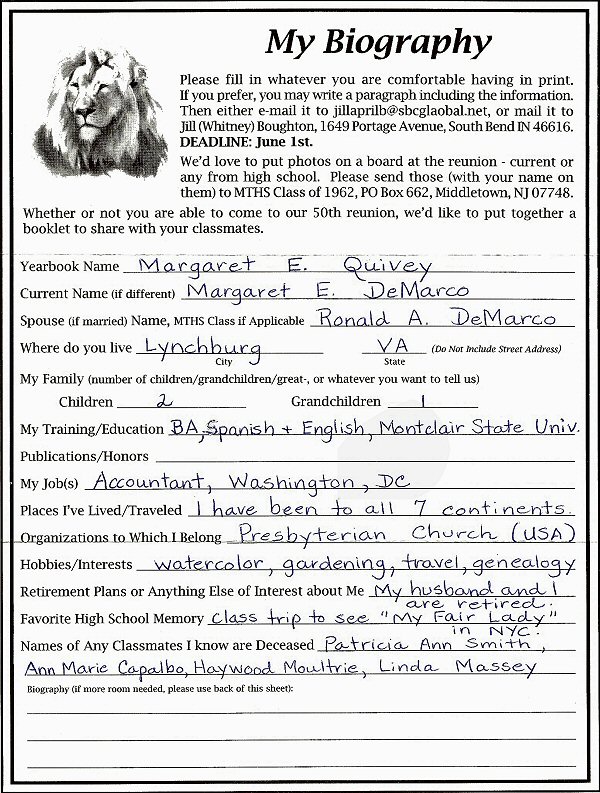 ---
Name as in Yearbook: Lee Craig Schoonmaker
Current Name (if different): L. Craig Schoonmaker (shifted to middle name in college; use the "L." in formal situations; other times, just "Craig".
Spouse's Name (if you are married); MTHS Class, if applicable: Never married; gay marriage not legal at the time in NYC or NJ to present.
Where do you live? City, state (not street address): Newark, NJ.
My Family (number of children/grandchildren/great-, or whatever you want to tell us): No children, alas.
My Training/Education: B.A., political science, City College of the City University of New York
Publications/Honors: I have had various small articles in a number of publications over the years, and two Letters to the Editor of The New York Times that the editors illustrated with line drawings, but my main publishing activity has been on the Internet, on which I have several websites on various topics, comprising some 135 webpages, and three blogs, the only one of which that has any significant following is a fotoblog about "Newark USA" (http://newarkusa.blogspot.com). I was admitted to Who's Who in American Politics in 1987, and have been in Who's Who in America for ten years (at May 2012).
My Job(s): Retired. I worked for over 30 years in word-processing, mostly for attorneys, in order to have time for my publishing activities on behalf of the Expansionist Party of the United States, Homosexuals Intransigent!, Homosexuals In Mensa (HIM), Homosexuals of High IQ (H2IQ) — all of which I founded or co-founded — etc.
Places I've Lived/Traveled: I moved to the West Side of Manhattan (within sight of NJ across the Hudson) in June 1965 and lived on the Upper West Side and Hell's Kitchen (West 46th Street) for 35 years, returning to NJ in June 2000, to a one-family house in Vailsburg, a semi-suburban area of western Newark.
I have traveled to 42 states (all in the Lower 48), all 10 Canadian provinces, Puerto Rico, Brazil, and a number of countries in Europe, plus Egypt. The exact number of European countries is hard to figure, because some broke up or merged (e.g., I have been in Russia and the Ukraine, which were then part of the same country, the USSR; in two parts of then-Yugoslavia, which are now the separate countries of Serbia and Croatia; and the two Berlins and two Germanies, are now united). In today's terms, I've been to Finland (Helsinki airport only, for transfer to Russian aircraft), Russia, Ukraine, Greece, Yugoslavia (Serbia, Croatia), Italy, the Vatican, France, Belgium, the Netherlands, West Germany, West Berlin, East Berlin, and East Germany.
Organizations to Which I Belong: Expansionist Party of the United States (co-founder and Chairman/Webmaster), Homosexuals Intransigent! (founder, webmaster).
Hobbies/Interests: Fotografy, spelling reform (Simpler Spelling Word of the Day and Fanetik websites), gardening, pool (8-ball).
Retirement Plans or Anything Else of Interest You'd Like to Tell Us: In 1970, as a member of the organizing committee for the first annual march commemorating the (gay) Stonewall Riots of the prior summer in NYC, I offered the term "Gay Pride" as it is now used, for the weekend of events surrounding the march. The first thought had been that we would call it "Gay Pride Weekend", but I thought that was too political and confrontationally negative. I wanted something more celebratory that people could connect with in places where they could not hope for power but could still feel pride. And "Gay Pride" would serve as counterweight to the shame that gay people were made to feel, for "the love that dare not speak its name". The term "Gay Pride" wasn't a big deal at the time, but it became a very big deal indeed.
As for plans for later in my retirement, if Newark winters prove too much for me, I'm thinking of overwintering in Costa Rica, which is inexpensive and where I could become fully fluent in Spanish.
Favorite High-School Memory: Not one single, solitary thing stands out as a favorite. I do remember a stage kiss I had in some school play, with a girl whose name I can't even remember, which produced some 'woo-hoo' hoots from the audience. But I guess my favorite moments were choral performances, and Forensic League trips to other schools. I competed in "extemp"(oraneous speaking) and did pretty well in it.
Names of Any Classmates I Know Have Died: I have seen the list elsewhere on this site, but before then knew of Jim Burns, who died within weeks of graduation, Linda Massey, and Hayward Moultrie. There had also been a rumor that Eddie Rosen died, but then he showed up at a reunion!
---
Linda M. Severs (Mrs. Demetrios ) Paparsenos

My Story: After leaving Glassboro State College, I worked a year at a stock brokerage office in Newark then attended Monmouth College, earning a B.A. in European History in 1967. I then worked for the Monmouth County Welfare Board as a case worker in "Old Age Assistance" then Disability Assistance, being promoted to area supervisor in 1971.

A colleague introduced me to her brother, a Greek from Greece. I became Mrs. Demetrios Paparsenos in May, 1972. We settled in an Athens apartment. Little Achilleas was born just a year later, followed by his brother Yiannis (Jonathan) in 1977. Both boys attended Greek public schools but went to college in NJ (Rutgers and Seton Hall). Achilleas returned here in 1999 but is unemployed due to "austerity cuts" even in the private sector. Jonathan did a 4-year stint with the U.S. Marines but now lives in Milwaukee where he's a fund-raiser for Marquette University. He is married with two children, Demetrios (7) and Sophia (4).

Babysitters were rare then, but after the boys were old enough I worked teaching English as a Foreign Language, which I thoroughly enjoyed. Due to health problems including hip replacement and breast cancer (I'm a one-year survivor!), I stopped working and am waiting for my pension to kick in. Could be a long wait.

My interests center around my involvement with the Anglican Church in Greece. I've been a warden for 14 years and belong to the European Diocesan synod. This involves me in immigration welfare, freedom of religion issues (Only the Orthodox Church is recognized at present), meetings with Bishops and even a delightful meeting with the Archbishop of Canterbury. So it's not just attending church but a way of being involved in the community. I'm also interested in researching American and European history on an amateur basis and dabbling in theology and religious studies.

My wonderful circle of friends includes people from all walks of life and nationalities (from Africa, Europe, Asia and North America). The present situation makes life a little difficult and we may be forced economically to leave, but this is a great place to live as well as visit.


---

Frederick (And Magdalena) Spielman

Mililani, HI

3 children, 5 grandchildren

Education: B.S. Rutgers (Criminal Justice), US Air Force War College

Jobs: personnel officer, US Army – program analyst, civ. US Army

Places Lived/Traveled: Japan, Guam, Kwajelein, Malaysia, Thailand, Korea, Philippines, Truk, Pompei, Saipan

Favorite Memory: good times at Pat Brown's house with Pat, Walt Smith and the entourage

My Story: Enlisted in Army 1962, became warrant officer 1972, commissioned captain 1978. Retired 2003 as LTC. Civil service at Ft. Monmouth, Ft. Dix, Edison, NJ; Schofield Barracks, HI, Ft. Shaffer, HI and Wheeler Army Airfield, HI. Married 1965, divorced 1991. Married 1994, wife from Philippines.


---
Yearbook Name: Dean Vitello
Spouse's Name: Roberta Cross
Where do you live? Venice, Florida
Number of Children: Zero
Education: BA from Monmouth College
Publications: I have written numerous documents for Fortune 500 Companies. Now that I am retired I am writing fiction and have published the following short stories: "The Reunion" and "Primal Punch Therapy." I am currently working on a new manuscript, which I have titled "Travels with Ozzie."
Job: Technical Writer
Places Traveled: Rome, Nova Scotia
Organizations: N/A
Hobbies / Interests: Guitar, Reading, Writing Fiction, and RVing.
Retirement Plans: Guitar, Reading, Writing Fiction, and RVing.
Favorite High School Memory: Cutting school to go on <i>American Bandstand</i>.
---
Yearbook Name: Jill April Whitney
Current Name (if different): Jill A. Boughton
Spouse's Name (if married), MTHS Class If Applicable: John
Mailing Address: 1649 Portage Ave. South Bend IN 46616
My Family (number of children/grandchildren/great-, or whatever you want to tell us): 6 children, 6 grandkids. We've also done foster care.
My Training/Education: B.A. Wheaton (IL) College (1962), Ph.D. Yale (1970), both in Philosophy
Publications/Honors: You And Your Aging Parent: The Practical Side of Love (Greenlawn Press, 1994)
(with Julie Walters) God's Icebreaker: The Life and Adventures of Father Ted Hesburgh of Notre Dame (Corby Publishing, 2012):
My Job(s): taught philosophy at University of Notre Dame (1970-75), freelance writer
Places I've Lived/Traveled: since 1970, near Notre Dame in South Bend IN
junior year in Paris (1964-5), pilgrimage to Ireland (1978), Lourdes (2007)
Organizations to Which I Belong: People of Praise (ecumenical charismatic covenant community)
Roman Catholic Church
Prader-Willi Syndrome Association (youngest daughter has this genetic disability)
Hobbies/Interests: Scripture, ecumenism, Christian initiation of children/adults, reading historical novels, knitting, gardening
Retirement Plans or Anything Else of Interest about Me: diabetes for 50+ years managed with pump, sensor
Favorite High School Memory: debate season with Mr. Bailey where our "negative" strategy was to agree with the affirmative then say they hadn't gone far enough.
---
Janet Zazzira Graf

Charlotte, NC.

Life Story: I married Bill Graf May 11, 1968, in Staten Island, NY. Bill is now deceased. I currently live in Charlotte, NC. Before that I lived in Palm Beach County, FL, for 34 years (Boca Raton and Greenacres). Bill and I have two daughters who have relocated to the Carolinas, and we are blessed with three lovely grandchildren.

After high school, my family moved back to Staten Island and I began a career on Wall Street that lasted 20 years. I worked for various brokerage houses, 11 years on Wall Street, the rest at branch offices in Boca Raton. I was a bookkeeper, executive office receptionist, order taker, and administrative assistant to the branch manager. In 1982 I became a stay-at-home mom to raise Jennifer and Amanda. When Jennifer began kindergarten at Wellington Christian School, I began a 24-year career at the school, assisting in kindergarten then becoming head bookkeeper. Currently I'm semi-retired, taking care of my two 4-year-old grandsons three days a week and doing accounting at South America Mission the other two. I'm a past member of West Palm Beach Junior Women's League and currently volunteer at the Billy Graham Library and Mecklenburg County Nursing Home. Since moving to the Carolinas, I've really enjoyed gardening, and hiking the mountains with the family. I've traveled the southern states, out to the west coast, and north through Door County, Wisconsin, as well as a few cruises to the Caribbean. I praise the Lord for the journey so far and look forward to His future plans for me and my family. He is an awesome God; may everything I do and say glorify Him!